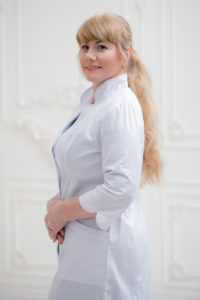 Head – laboratory doctor of higher category Svitlana Savchenko.
An experienced cytologist, biochemist. Graduated from Taras Shevchenko National University of Kyiv (Biological faculty). Undergoes an annual training at the National Medical Academy of Postgraduate Education named after P. L. Shupyk. Engaged in scientific research.
Under her leadership, all the necessary biochemical, general clinical, haematological, immunological and cytological types of testing are carried out in the clinical diagnostic laboratory:
Complete blood count (haemoglobin, haematocrit, erythrocytes, erythrocyte indices, leukocytes, thrombocytes, leukocyte formula, neutrophils, eosinophils, basophils, lymphocytes, monocytes, reticulocytes, ESR).
Biochemical blood test (albumin, total protein, creatinine, urea, uric acid, glucose, bilirubin and its fractions).
Blood type; RH factor.
Blood enzymes test (ALT, AST, alpha-amylase, LDH).
Blood electrolytes test (total and ionized calcium, potassium, sodium, chlorine).
Specific proteins test (ASL-O, C-reactive protein (quantitative study), rheumatoid factor).
Coagulogram (APTT, prothrombin time, thrombin time, INR, fibrinogen, D-dimer).
Lipid blood spectrum (total cholesterol, high-density lipoproteins, low-density lipoproteins, very low-density lipoproteins, atherogenicity index).
Clinical urine tests with sediment microscopy.
Biochemical urine tests (protein, albumin, creatinine, glucose, urea, uric acid, pH, potassium, sodium, calcium, phosphorus, amylase, ACR, OCR).
Other biological materials tests (cerebrospinal and pleural fluid, seminogram).
Infections (HIV, viral hepatitis B, C, syphilis, TORCH infections).
Cytological
The clinical diagnostic laboratory (hereinafter the CDL) is equipped with modern high-quality equipment. Daily work in the CDL begins with the calibration of equipment using Elitech (France) reference materials and reagents produced in France. The CDL is certified and once a year participates in the international quality control program conducted by the reference laboratory of the NAMS.
The CDL of the Institute of Nephrology has a number of advantages:
Maximum standardization and quality control.
Careful monitoring of the pre-analytical phase of laboratory testing with the use of disposable vacuum systems (Monovette) for blood sampling.
Automation at all levels of testing.
High-speed analysis (performed within 30 minutes to 2 hours).
High accuracy of testing.
Laboratory testing is one of the most informative stages of diagnosis and treatment. It allows detecting changes at the cellular and molecular levels and provides up to 70% of objective information about the condition of the body.