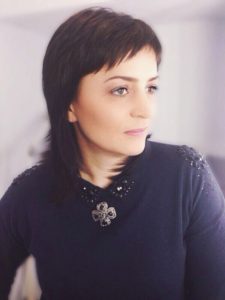 The head of the department: d.med.n, s.ns – Stepanova Natalia.
N. Stepanova has been working at the Institute since 2002, she has the highest qualification category in nephrology (2010), 20 years of clinical and 15 years of scientific experience.
Natalia constantly raises her qualification level, annually takes part with reports at numerous national and international scientific and practical conferences. Member of the European Renal Association-European Dialysis and Transplant Association (ERA-EDTA), the International Society of Nephrology (a member of the NIS and Russia Regional Board), the European Associacion of Urology (EAU), the member of the Board of the National Kidney Fund, the member of the Supervisory Board of the Association nephrologists of new independent countries, Vice-President of Ukrainian Association of Nephrologists and specialists in kidney transplantation. Member of the Scientific Committee of the European Association of Urology on the topic "Infections in Urology" since 2013.  Did a fellowship at the Rambam Health Care Campus clinic (Israel, 2017).
N. Stepanova is the scientific supervisor of 3 Ph.D. theses. Deputy Editor-in-Chief of the Ukrainian Journal of Nephrology and Dialysis. Member of the expert problem commission of the Ministry of Health and of the National Academy of Medical Sciences of Ukraine, specializing in nephrology, thesis council D 26.565.01, the academic council of the State Institution "The Institute of Nephrology of the Academy of Medical Sciences of Ukraine". Author of more than 350 scientific and scientific-methodical publications, including articles in professional publications and scientific journals contained in the Scopus and Web of Science databases, manuals, patents of Ukraine for inventions / utility models and the like.
Under the leadership of Stepanova N. the staff of the department received a President Grant of Ukraine for gifted youth for 2016 for a scientific project: "Pathogenetic mechanisms of recurrent pyelonephritis: the development of new methods of diagnosis and prevention."
N. Stepanova carries out an advisory reception of patients in the clinic of the State Institution "Institute of Nephrology of the Academy of Medical Sciences of Ukraine" at the address: 04050. Kyiv, Dehtyarivskya str. 17-V. on recording by phone: +38 (0 44) 225 93 76.