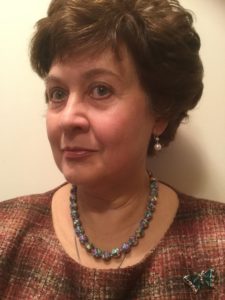 The Laboratory of Immunology is a modern scientific research subdivision where 4 researchers work: 1 head, 1 leading scientific worker, 1 senior scientific worker, 1 junior scientific worker, 1 laboratory assistant. Out of  them – 1 Doctors of Medical Sciences, professor, 1 Candidate of Biologic and 1 – of Medical Sciences, senior scientific worker.
Supervisor is the Doctor of Medical Sciences, Professor Viktoria E. Driyanska.
The directions of scientific and practical activity. The important directions of researches are to evaluate the impaired immunity in patients with nephrologic pathology, to study the deep pathogenetic mechanisms and to elaborate the effective methods of treatment using the immunotropic therapy in immuno-inflammatory and inflammatory renal diseases.
In the Laboratory of Immunology the new modern methods are used to investigate the production of factors of intercellular cooperation of the immune system  –  spontaneous and induced synthesis of cytokines: interleukins, interferons of risk factors by methods of immunoenzymic analysis, that allows to assess the state of T-lymphocyte helpers (1, 2, 17 types, T-regulatory cells etc), cells of monocytic-macrophage system. It is also performed typing to determine the specificity of HLA-antigens (loci A, B, DR) in patients with chronic glomerulonephritis. There are put right the methods for determination of antibodies against proteins of thermal shock in blood serum and inhibitors of secretory leukoprotease (SLPI), expression of cellular adhesion molecules – ICAM-1, VCAM, pro-(CD95) and antiapoptotic (bcl-2) markers. The laboratory researchers are skilled  in determination of receptors to interleukins and also in expression of histocompatibility agent of class II (HLA-DR) on T- and B-lymphocytes.
Of important practical value is the knowledge of making analysis of the immunity state, formulation of immunologic diagnosis and usage of new immunotropic preparations in therapy regimen for patients: myelopid, timaline, T-activin, timogen, laferone, mycotone, galavit, proteflazid, kagocel etc.
The laboratory researchers as founders  and members of the Ukrainian Society on Immunology, Allergology and Immunorehabilitation (USIAI) participated in holding above 30 scientific practical conferences, including 3 international, where the problems of clinical and laboratory immunology were enlightened, 1 International School for young scientists with participation of 30 world leading professors.
The laboratory scientists have published above 700 scientific works, 11 monographs during their scientific activity.
During the time of the SI "Institute of Nephrology of NAMSU" existence the collaborators of the Laboratory of Immunology have taken part in 22 scientific themes and now are working over 4 themes, as a result of these investigations more 300 works have been published, including 6 monographs, 146 articles and 139 summaries of reports (41 – abroad), 13 patents (for the invention and useful model), 1 informative letter; 135 reporters were made on conferences and meetings (35 – abroad). 3 dissertations for scientific degree of Doctor of Medical Sciences and 6 dissertations for that of Candidate of Medical Sciences were defended at the Laboratory.